YOUTH VOLLEYBALL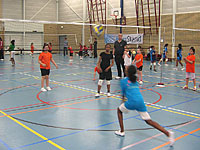 We have volleyball for youth ages 6 - 17 years old. From June until August we play beachvolleyball. From September until May we play volleyball in the hall.


Volleyball Sportcenter West

The youth teams practice in Sportcenter West and compete in league games and tournaments in the Rotterdam region.

Youth age 6-8,

Youth age 9
Youth age 10,
Youth age 11,
Youth age 12-13,

Youth age 14-15,

Youth age 16-17

There are no practices scheduled during school holidays.
Interested in joining?
Try a free practice volleyball or for more information click on Contact.